---
Contact Us
---
Punctuation With a Purpose Lessons Entrance
Campus Directory


Congratulations to you, Cathy and Judy, on a fantastic website and all that it offers, and thank you for letting me into your professional cyber building. I am so impressed with the depth of your course. Take a bow and take the "A+." I wish you both the very best in your work always.

Fondly,
Lillian Morson
"Morson's English Guide For Court Reporters"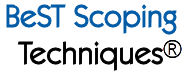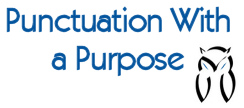 Our goal is for you to learn punctuation well enough that you will always have a valid reason for punctuating something the way you did.


What is Punctuation With a Purpose?

Punctuation With a Purpose ("PWaP") is a unique, in-depth training program designed to present the rules of punctuation using easy-to-follow techniques, PowerPoint slides, interactive quizzes, and mastery skills exams. Combined with Morson's English Guide for Court Reporters, 2nd Edition (included), students will gain a comprehensive understanding of the rules of punctuation and will not only be able to answer the "how" of punctuation, but they will know the "why."

Punctuation With a Purpose is now included in the BeST course for scoping students. It is also offered as a stand-alone program for court reporters, proofreaders, or other professionals who work with transcripts and wish to enhance their knowledge or simply brush up on their punctuation skills.

Take the Sneak Peek sample exam

On-line exams are used throughout PWaP to reinforce comprehension of the material. If you'd like to take a sample exam to see what they're like, you may do so. When you click on the link below, your browser may advise you that it has been blocked from running scripts. If so, please follow your browser's prompts to let the script run. (It's EXTREMELY safe!) Then you will be presented with a log-in screen. Enter your email address and then the password is visitor. Click here to take the Sneak Peek exam. Check out how an exam works and then X out of that window to return to this page.

Sign me up!

Click here to sign up!

When you have paid and received your username and password, you can access the PWaP lessons through the link at the upper left of this page.



(Classrooms ~ Campus Directory)



Website by Best Scoping Techniques. All rights reserved.