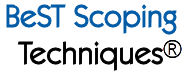 Testimonials & Kudos (p. 1)



---

I have had the pleasure of knowing Cathy and Judy as part of the scoping industry since the early '90s. You will not find more professionalism and dedication to the scoping field than exists in these two ladies. They operate the most comprehensive scopist training program on the market and train their students to the highest level of expertise and proficiency. I am confident that anyone who chooses their BeST Scoping Techniques training program will have all the necessary skills and lifetime support to excel in their career as a professional scopist.
Congratulations to you, Cathy and Judy, on a fantastic website and all that it offers, and thank you for letting me into your professional cyber building. I am so impressed with the depth of your course. Take a bow and take the "A+." I wish you both the very best in your work always. Fondly,
Lillian Morson
"Morson's English Guide For Court Reporters"


---




---

I learned about scoping while searching online for at-home career options. I came across the topic of scoping. I had never heard of scoping before so after a lot of reading and Google searches, I was intrigued. That was a few months ago, and Iíve been taking time to really think about pursuing scoping as a career. Despite all of the high reviews for BeST I saw online, I actually signed up for a scoping course at another online school because of the lesser price of tuition and quickly realized after receiving my materials that I had made a big mistake. The materials were all in book form, very little internet use of any kind, and extremely outdated. I withdrew from that course and began saving the tuition cost for the BeST program. Iím so excited to finally be enrolling. Jil H.


---

I am a graduate of BeST Scoping Techniques. I absolutely loved the program and you couldn't ask for better or more supportive teachers. The other courses I checked out...well, all I can say is they didn't feel like home, and BeST did. I think one of the biggest bonuses of taking Cathy and Judy's course is the support that comes along with it. I mean, they are ALWAYS available! I swear neither of them ever sleep! LOL Have a question? Just send out a quick e-mail and within 5 minutes, you have your answer. &nbsp April


---

I went to look at your site, ladies, and all I can say is - how fortunate your students will be to be able to benefit from your knowledge and experience! I'm greatly wishing I had waited and taken YOUR course. Besides being half of what I paid, I would have learned twice as much. : ) since I'm still paying off my first training loan, I'll just have to stick around SSG and learn the long, hard way. lol Best wishes, Cathy and Judy! &nbsp Maria


---

There's no arguing that the BeST is the best. Cathy and Judy are offering a course that will easily give you all you need to become a proficient and professional scopist. They will not only be your teacher and guide you, but will become a great friend and role model. When you need them, it is almost like being able to dial "O" for operator and getting help. That's sometimes how instantaneous it is. &nbsp Maureen Robinson ("Mo")


---

I agree with that 100 percent. There's no way you could go wrong with their course!! &nbsp Jan


---

I don't think you can go wrong with Cathy and Judy's course. I know that they will do a great job and keep making enhancements to make it truly "THE BEST" scoping course. &nbsp Dolly


---

BeST gives the student all the aspects of scoping that they'll need to be successful, including grammar and punctuation, steno translation, and directions on how to run your new business. After you become part of the BeST family, they continue to help by providing a web page, business materials, and access to job leads. If you're considering becoming a scopist, I highly recommend enrolling in the BeST school to gain the knowledge necessary to be successful. It is a lot of work, but you will graduate with the tools you need. Rick

---

My first anniversary is coming up as a BeST graduate. In my first year, I have found steady work. I have worked for the same two reporters for almost all of that year and recently picked up a steady third. There have been others that have come and gone, for all different reasons, but I have never been without work unless I wanted to take time off. I have had one referral complete your course, one is currently taking it, and a third should be starting in the next week. All in all, I want to thank you and Judy for presenting me with this opportunity. I have, obviously, found this to be a very good profession and I am happy to tell anyone about it that is willing to listen to me! &nbsp CarolG


---

Please feel free to pass along my email address to prospective students! I am so impressed with the course content and layout that I would not hesitate to recommend it to anyone. My BeST to you.........;-) Pat


---

ABSOLUTELY!!! I would *love* to recommend this course to anyone interested in becoming a scopist. You and Cathy have been so wonderful. You've both been very encouraging and are always available to help when I need it. I cannot tell you how happy I am that I ... became your very first student!! &nbsp Lisa


---

I only wished I found BeST before! What you guys offer is tremendous compared to others I have found. I believe you two have done an excellent job setting up what every scopist needs to start a career. And not only can a person finish the course and have everything they need, but you are always there answering questions on the scopist support site and that's awesome. Like I said, I wish I had found you sooner! &nbsp Brenda


---

I'm so glad I went to Judy's and Cathy's BeST Scoping School! I'm actually making real money now, and this is the most fun job I've ever had! LOL! ;-) KT


---

Hey, Cathy and Judy, I just wanted you to know I've been very busy doing work for two reporters. I believe you gave me the leads on both of them, too! They both gave me glowing reviews on my first jobs for them. Happiness! Thanks so much for your course and your support! &nbsp Jackie


---

I graduated in March of this year, and though I had no prior experience, I am doing wonderful in my new career. But only due to the ladies that run the BeST scoping course. I can't believe I'm actually working from home! I just wanted to thank you, Judy and Cathy, for all the leads that you are sending to the BeST graduates. I am so busy lately that I don't even get a chance to read emails, no less respond to many of them. You've trained me well and then gave me many leads so that I can put my skills to work. Thank you again! Tammy


---

Dear Cathy and Judy: I can't thank you both enough for all you do! Everything about the course is wonderful, and you have left no stone unturned. I am so thankful to have found BeST and feel truly blessed to have met and been trained by the two of you. I love my web page!!!! Many thanks for making it so nice. It really looks great. You've made doing it all so much fun. Thanks again, Val


---

Thanks for having such a great program. You and Judy are very well respected in the industry!! &nbsp Jennifer


---

I wanted to tell you both that the feedback you give is great. The input you give in response to the lesson answers, as well as to the MANY questions I ask are wonderful. I know I made the right choice in choosing your course. &nbsp Christine


---

I highly recommend taking the Best Scoping Techniques course. There are other courses available, but I chose this course because (1) Judy and Cathy respond immediately before, during, and after the course; (2) they are the ones that started and maintain the invaluable scopists forum; and (3) there is an excellent support system after the course is completed by way of reporter-scopist connections through BeST. I "graduated" less than a month ago, and am already scoping a few transcripts for a reporter, and I am most grateful for the opportunity. It definitely takes a while to get going, and you have to aggressively market yourself. Best of luck to you, Karyn, and again, welcome to the forum! Liz S. &nbsp


---

Hi Judy, I am writing today with some very good news! I did my first scoping job this week. Naturally, I was a little nervous being that it was my first deposition since graduating. Well, anyway, I sent the transcript back, and the court reporter sent me some feedback. She said that I am the best scopist that she has ever had. She said it is really hard to find a qualified scopist. Anyway, Judy, all the hard work I put in has paid off. I want to thank you and Cathy for all the wonderful instruction you gave to me. I couldn't have done it without you two. Thanks a million! I am so very happy. Take care and God bless you both. Mary B. Mary


---

Dear Cathy and Judy: I can't thank you both enough for all you do! Everything about the course is wonderful, and you have left no stone unturned. I am so thankful to have found Best and feel truly blessed to have met and been trained by the two of you. I love my web page!!!! Many thanks for making it so nice. It really looks great. You've made doing it all so much fun. Thanks again, Val


---

I really appreciate your help throughout this rigorous course. Your step-by-step process has allowed me to retain and practice information than I would have been able to do otherwise. The thoroughness of the course was exceptional. I especially like the exercises that needed to be completed, as they helped me focus and learn efficiently.
Marietta


(more...)



(Classrooms ~ Campus Directory)




Website by Best Scoping Techniques. All rights reserved.